Chris over at the TechTablets YouTube channel has given an excellent first look and review at the upcoming MOREFINE S500+ Ryzen 9 5900HX-powered mini PC.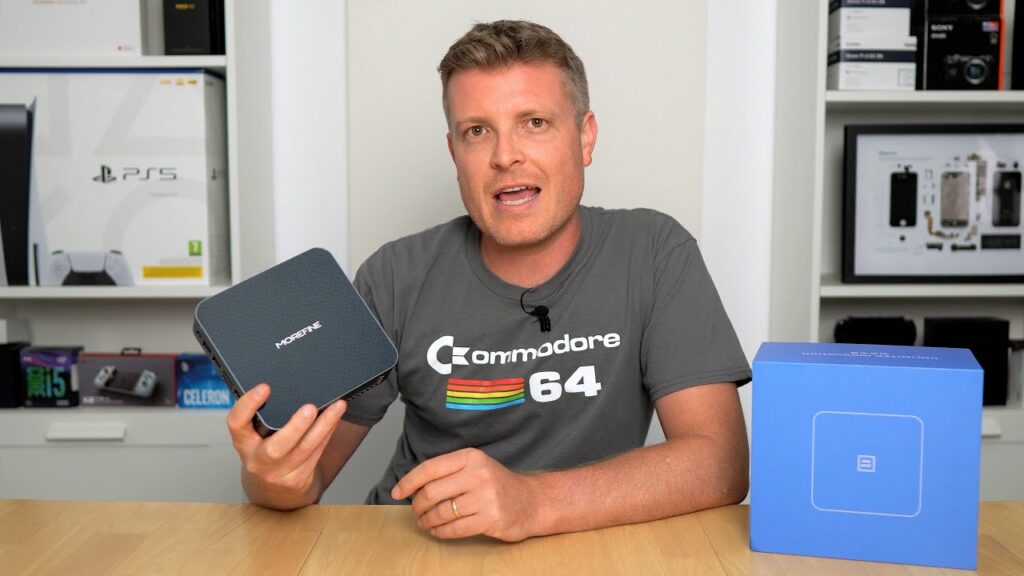 World's FIRST AMD Ryzen 9 5900HX Mini PC!
MOREFINE S500+ Review. The worlds first AMD Ryzen 9 5900HX Mini PC is here! More info: https://www.indiegogo.com/projects/–218452/coming_soon/x/27191456 Rev…
www.youtube.com
We strongly recommend you check this video out for all the full details, but read on below for a quick summary of the tasty parts.
For starters, the overall specs of the mini PC are quite impressive, to say the least:
AMD Ryzen 9 5900HX APU

8 cores, 16 threads running at the default 4.6GHz

Storage

2 NVMe PCIe 3.0 M.2 slots
1 SATA III/6Gbps slot

RAM

2 SODIMM DDR 3200MHz Dual-Channel slots

Networking

Intel AX200 Wifi 6/Bluetooth 5.2
2.5Gbps Ethernet
1Gbps Ethernet
(Yes, TWO Ethernet ports)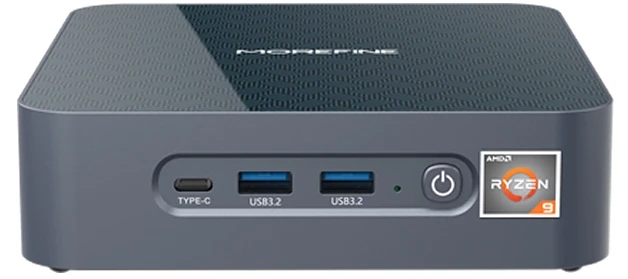 The front of the S500+ features one USB type-C port with support for USB 3.2 Gen2 speeds (10Gbps), USB power delivery up to 120W, and Display Port connectivity. Additionally, there are two USB 3.0 ports up to Gen1 speeds (5Gbps). The front also features a status/power LED and the power button along with a Ryzen 9 sticker, just in case you needed reminding of what kind of beast is powering this mini PC. 🙂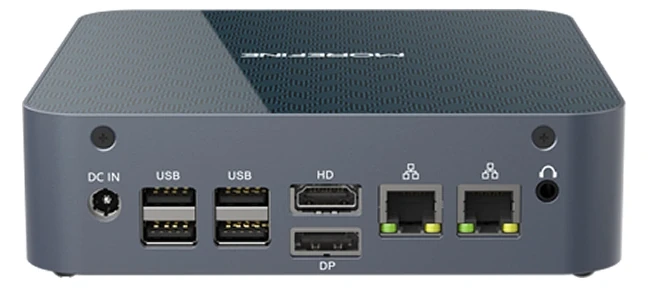 Around the back of mini PC there is wide array of connectivity options. To start, the 120W power supply that's included with the Morefine S500+ connects via a standard DC barrel pin connector. There are 4 USB 2.0 ports as well as fullsize HDMI 2.0 and DisplayPort 1.4 connections. The S500+ also has not one, but TWO Ethernet ports – 2.5Gbps and 1Gbps. Rounding out the backend connections is a 3.5mm headphone jack. headset port with microphone support, similar to what is available with most laptops (See comments below for discussion that clarifies this. Thanks, Eric!)
With regards to the build and the internals, the case features an aluminum-magnesium allow shell with a plastic top (to allow for the easy transmission of the wireless signals). Upon removing the top of the casing you'll find the wireless antennae attached to top of the case. You'll also be greeted by the two SODIMMs which can support up to 64GB of 3200MHz DDR4 RAM in a dual-channel configuration. You can also find the M.2 slot for the AX200 Wifi card, which is user-replaceable should you want to upgrade in the future. Moreover, you'll be able to access the first of the two PCIe 3.0 NVMe M.2 slots as well as the slot for the supported 2.5″ SATA III 6Gbps drive.
Flipping the device over, you'll find that accessing second NVMe slot will require removing the rubber feet at the bottom to unfasten the screws that keep the lower panel in place. Once you've done that you can add a second NVMe PCIe 3.0 slot. Additionally, if you want to clean-out the heatsink and fans that cool the APU, this is where you'll do that.
Upon powerup, if you enter the BIOS you'll find that it is mostly unlocked. However, be careful as Chris discovered that, perhaps due to having an early pre-release model, not all configurable options are stable, and he had to reset the BIOS via the CMOS battery at least once when trying to change memory timings.
Onto the benchmarks, the S500+ delivers what can only be described as superb performance for a device of this form factor, albeit those already familiar with the performance of the 5900HX from other devices like laptops may find the results more or less expected. While the graphics performance is subpar compared with almost anything dedicated, for a mini PC and integrated graphics device the benchmark and gaming performance were quite impressive. On older games, and even some newer ones, a low-to-medium quality 1080p gaming experience is more than possible depending on the title. Even Cyberpunk 2077 delivered a playable experience, but just don't expect twitch-gaming levels of performance, of course.
Under full load, the S500+ pulls 64W of power, while idle hovered between around 6 and 10W. The mini PC can support up to 3 displays at 4k60p at the same time by making use of all the available display outputs, so it would also do great as a high-powered digital signage device or just an impressive desktop machine.
In his own tests, Chris was was wowed by how quickly the device was able to tear through his typical video encoding workflow, easily performing faster than anything else he's used on the channel. This is no doubt in part to either the massive number of cores, some assist from the Vega graphics encoder, or a combination of both.
And there's good news for Linux – he loaded-up Linux Mint and found all parts and components well supported, including networking and display. This comes no doubt in part to the already good support of the AMD platform on Linux already as well as the choice of components that already have support in Linux, such as the Intel AX200 Wifi card.
All-in-all, the MOREFINE S500+ Ryzen 9 mini PC is an impressive, and small, piece of hardware that packs a high-end laptop's worth of performance into a tiny package. We look forward to when this device is finally released and perhaps we may even get a chance to pick one up and review it for you directly here. You can find out more as well as sign-up at MOREFINE's S500+ Indiegogo page.